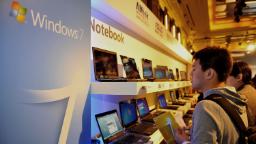 One-third of PCs around the world run Windows 7, according to NetMarketShare.
Good news, for starters: You don't have to throw your computer or laptop out of the window(s). It's still usable, but it's less secure. Microsoft is warning users in a
special website
that they will be at "greater risk for viruses and malware" because it will no longer provide security updates or fixes.
Microsoft
(MSFT)
is suggesting you do one of two things:
First, upgrade your existing equipment to Windows 10. The $139 version is good enough for most PCs — even some older ones that still run Windows 7. There's also a Windows 10 Pro version for $199 if you use it for business purposes.
Still, browser updates alone aren't sufficient to protect your computer against hackers and bad actors. Operating systems have zillions of lines of code, and despite more than a decade of fixes and patches, holes and bugs continue to become apparent. Now that Microsoft has stopped updating Windows 7, those bugs will live on forever, ready to be exploited by bad actors.
So get Windows 10 or a new Windows 10 PC. Or buy a Mac. You'll be a lot safer when you do.