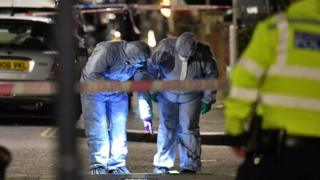 A man thought to be a food delivery moped rider has been stabbed to death in north London.
The man in his 30s was found on Charteris Road, close to the junction with Lennox Road, Finsbury Park, shortly before 19:00 GMT on Friday.
Delivery riders gathered in nearby Stroud Green Road said he had been the victim of a road rage attack following an argument with a car driver.
The Metropolitan Police said there had been no arrests.
One delivery driver said the victim was a 30-year-old Algerian known as "Taki", although he was unsure of the English spelling.
A friend of the deceased told PA news agency: "He was a good man. He doesn't make any trouble – he works and he goes home and he ends up being killed while he's working."
He added: "Its not safe to work by yourself anymore – what can you do? If someone comes at you with a knife you give them what you have or they are going to stab you."
Another 23-year-old rider, who gave his name as Paul, said: "Taki was a nice guy. He was a gentleman.
"I would talk to him everyday. He always said hello."
Last year, 95 people were stabbed to death in London, according to police statistics.