Coronavirus: What are the UK travel quarantine rules?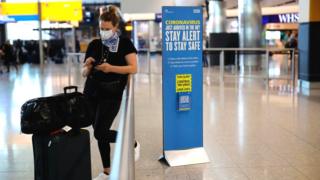 A two-week quarantine period for those entering the UK will soon be lifted for some travellers to England.
The quarantine policy was introduced in June to protect public health against imported coronavirus cases
But travellers from countries including France and Spain will be exempt from quarantine from 10 July.
What are the quarantine rules?
At present, passengers arriving in the UK by plane, ferry or train – including UK nationals – are asked to provide an address where they will self-isolate for 14 days. Travellers can be fined £100 for failing to fill in a form with these details.
One in five eligible passengers will be called or texted to check they are following the rules. Those in England could be fined up to £1,000 if they fail to self-isolate. No-one had been fined by Border Force as of 26 June, while details of any police fines haven't been published yet.
Passengers should drive their own car to their destination, where possible. If they don't provide an address, the government will arrange accommodation at the traveller's expense.
Once at their destination they must not use public transport or taxis. They must not go to work, school, or public areas, or have visitors except for essential support.
They are also not allowed to go out to buy food, or other essentials, where they can rely on others.
People returning from overseas will not be automatically eligible for statutory sick pay unless they meet the required conditions – for example displaying coronavirus symptoms.
Which countries won't have to quarantine?
Anyone arriving from the Common Travel Area (CTA) – the Republic of Ireland, the Channel Islands, or the Isle of Man – does not have to enter quarantine, as long as they have been in the CTA for at least 14 days.
From 10 July, travellers from dozens of countries deemed "low risk" will also not have to go in to quarantine when they enter England.
This replaces the mooted policy of "travel corridors" or "air bridges", which would have allowed people to travel to low-risk countries without having to quarantine at either end.
Health measures like quarantine are set by each UK nation separately. Northern Ireland will still quarantine travellers arriving from outside the UK and the Republic of Ireland, while Wales and Scotland haven't decided whether to ease quarantine restrictions.
The government will also lift its advice against all but essential international travel for selected countries from Saturday. It hasn't given a date for when the quarantine policy will end.
Which workers are exempt from quarantine?
There are also a number of people who are exempt, regardless of their country of origin, including:
Road haulage and freight workers
Medical and care professionals providing essential healthcare
Seasonal agricultural workers if they self-isolate where they are working
UK residents who ordinarily travel overseas at least once a week for work
Do other countries have quarantine rules?
Travellers could find they also have to enter quarantine when they arrive in another country, even if they do not have to quarantine in the UK. Some have introduced screening measures such as temperature checks, and entry restrictions.
What has the response been?
Quarantine has not been welcomed by the UK's travel industry.
Airlines UK, which represents various airlines, said quarantine "would effectively kill off air travel".
British Airways, EasyJet and Ryanair have launched a legal challenge against the policy.
The British Ports Association, which represents ferry companies, has also spoken out against the measures – calling them "overzealous".
Have airlines started flying again?
EasyJet has restarted a limited number of flights to European destinations, with all passengers and cabin crew told to wear face masks.
Ryanair has reintroduced 40% of its scheduled flights, with mandatory face mask wearing.
British Airways is reviewing its plans to run 50% of its schedule from July, because of the quarantine rules.
---
Are you planning to travel to or from the UK? How will the quarantine regulations affect you? Share your experiences by emailing [email protected].
Please include a contact number if you are willing to speak to a BBC journalist.